6 Essential Steps for Planning Your Basement Renovation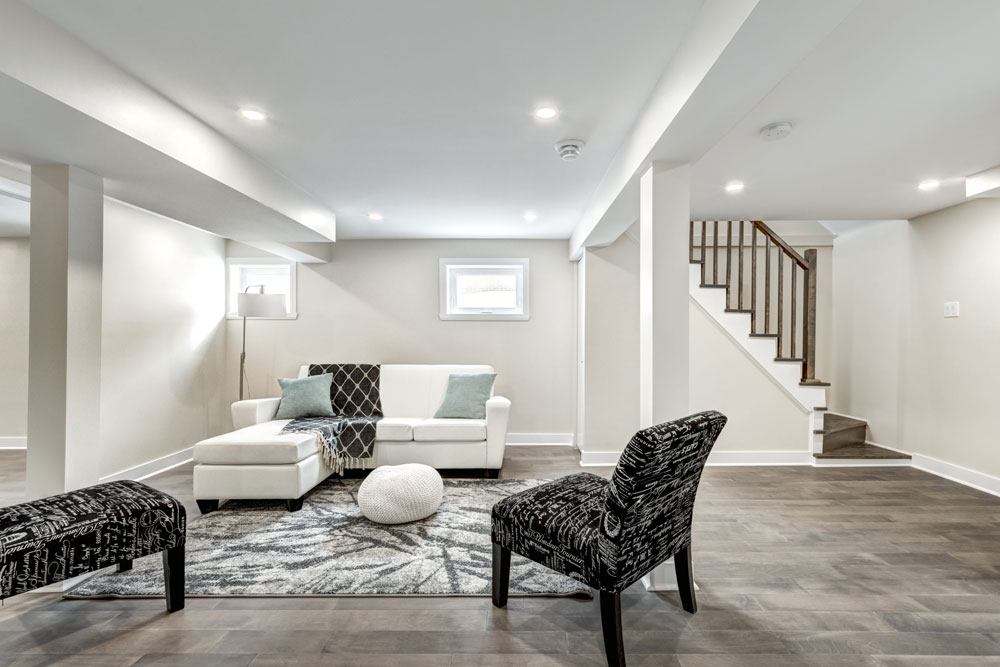 A basement renovation is a great way to increase your living space without the disruption of moving. However, it's a major project to take on, and it needs to be planned carefully to deliver results you'll be happy with for years to come. Here's what to think about before taking the plunge and hiring a contractor to start your project. 
Which Features Do You Want? 
A basement renovation can be as simple as adding some extra storage space, or as extensive as building a self-contained apartment complete with kitchen, bathroom, and bedrooms. How far do you want your basement reno project to go? Use our easy-to-use renovation calculator to see which options could fit within your budget and give your plans a solid foundation to build upon from the start. 
No matter how large or small your basement renovation project may be, there are several key points you need to cover as part of the planning process. These are the six most important areas to consider. 
1) Will You Need More Space? 
The first thing to think about is whether your basement is already large enough to meet your needs. If you're just looking to make the existing space more comfortable, then you likely won't need to plan any major excavation work. If you want to increase the space available, then you'll need to hire a contractor to assess how that might impact the foundations, structure, and drainage of the rest of your home. One of the recommended contractors from our network of trusted pros can make sure important work like this gets done right.  
This is especially important for older homes, which often need reinforcing and underpinning if the basement space is enlarged. 
2) Upgraded Access 
If your basement is currently accessed through a narrow set of steps, will this be good enough for everyday use? You might want to consider building better access into your plans, such as a full stairway, or even an exterior entry into the basement from your yard. What's more, for a basement to be considered legally habitable under most building codes, it needs at least one emergency exit separate from your main home, so don't overlook this vital aspect in the first stage of planning.  
3) Ventilation and Airflow 
A basement's underground location means natural ventilation might not be enough to keep the air fresh and clear. Without good airflow, a basement can quickly become dank and mouldy, which can cause serious issues for health as well as create an unpleasant space to be in. 
If your basement already has windows or air vents, they might be enough to provide adequate airflow. If not, you may need to upgrade your home's HVAC system to supply better ventilation to the lower level, and you'll need to factor this into your budget. To stretch your budget further, consider looking at flexible financing options so you can complete your basement renovation with low monthly payments, instead of paying for everything upfront. 
4) Light Sources 
Similarly, a typical basement is unlikely to be flooded with natural light, so you'll need to consider how to make the most of what light there is, as well as complement it with artificial lighting where necessary. 
If there are already windows in the basement, can they be enlarged without degrading your home's structural strength? Could a few extra hopper windows brighten things up? A dark and gloomy basement may soon become a place you don't want to spend time in, so it's important to build lighting into your plans from the outset. 
5) Electrical Needs 
A simple basement refit might be able to rely on the electrics already installed in your home. But if you're planning something more extensive, maybe including a few kitchen or laundry appliances for instance, then you might need to install a new circuit and control panel to handle the extra load they bring. One of our recommended electrical contractors will be able to assess your current energy usage and advise on any upgrades that might be needed. 
6) Plumbing 
Lastly, if your basement renovation will involve a kitchen, bathroom, or laundry room, you'll need to consider upgrading the plumbing that's already installed. Will the existing drain be able to handle the increased load, and will your water heating system be able to supply the extra hot water that might be needed? Consulting with one of our recommended contractors will help ensure the plumbing and heating is reliable and up to the task in the years ahead. 
All these factors need to be carefully considered when planning a basement renovation, as any mistakes made at the start can be very difficult to correct later on. Let MyHomeUpgrade.ca help you get it right the first time with our team of expert advisors available to assist with your project at every step of the way. Click here to start renovating like an expert, today!