Basement Renovations
Get a bigger home without having to move by investing in a basement upgrade. Discover how you can make the most of the space in your home.
What Are the Benefits of a Basement Renovation?
Finishing your basement can add value and living space to your home for less than it would cost to add a whole addition. With a little investment, you can turn them into a recreation room for the family, an office space or workshop, an entire apartment even—the possibilities are endless when it comes to basements.
BASEMENT UPGRADES
How to Plan a Basement Renovation
The thing about a basement reno is that it can be small, like putting in drywall and basic flooring, or a full-scale project involving rooms, plumbing electric wiring, and more. Planning your basement renovation carefully and having a clear vision of what you want will ensure the best outcome. Consider your vision, budget, and desired results as you go through the following steps.
Make a Plan
Make a list of what you want, including what the rooms will be used for, possible finishes, lighting, plumbing, and special features like a fireplace, basement bar, or home gym. The more detail you can include upfront, the better idea you'll have of how much your project is going to cost.
Build a Budget
Using our free renovation calculator will help you plan better. Once you have a number in mind, you can figure out ways to work around it. For example, in your detailed assessment, you'll be able to see where you can give and take to stay within your budget. Keep in mind that a basement renovation loan can help make your budget stretch even farther.
Hire a Contractor
You may love to DIY, but unless you have experience with large spaces like a basement, it's in your best interests to trust an expert. Hiring a professional contractor can save you loads of time and money in the long run. Submit your basement project now to get started with leading contractors in your area.
How Much Do Basement Renovations Cost?
The cost of finishing a basement will obviously vary depending on the current state of your basement and what you're looking to get done. They can range anywhere from $15,000 to over $50,000. Your location and fluctuating labour and material prices will have an impact as well. With MyHomeUpgrade.ca's free renovation calculator, you can put in the details of exactly what you need, and we'll provide you with a detailed estimate of how much you can expect to pay based on rates from recommended contractors in your area. Interested in financing? No problem. We can help with that too.
Tips and tricks
Special Features That Take Your Basement Renovation to the Next Level
You've chosen all the basic functions you'd like to see in your new basement—now it's time to level up. Here are some special features to consider that can help make your new space even better. FINANCE MY HOME RENO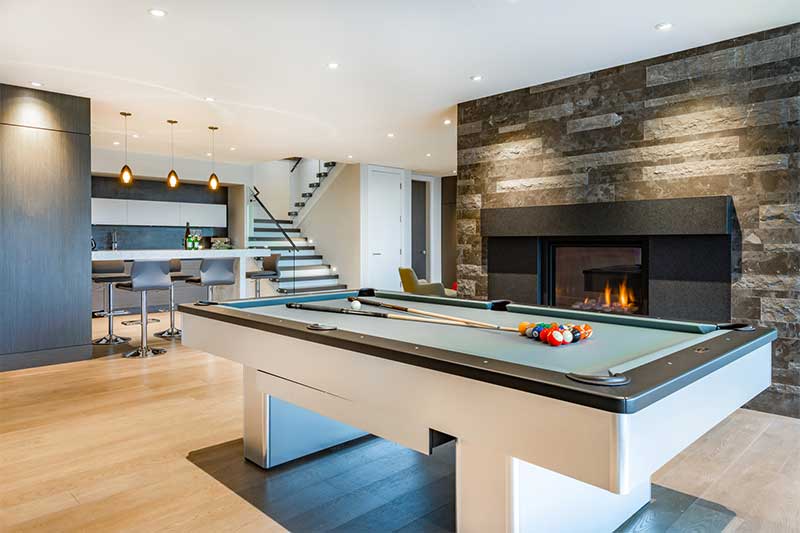 Contractors You Can Rely on
Plan your renovation with expert guidance. We work with only the most trusted contractors in your area who are all:
Experienced
Licensed
Well-reviewed
Your Home Renovation Project Starts Here