6 Ways to Personalize Your Kitchen Renovation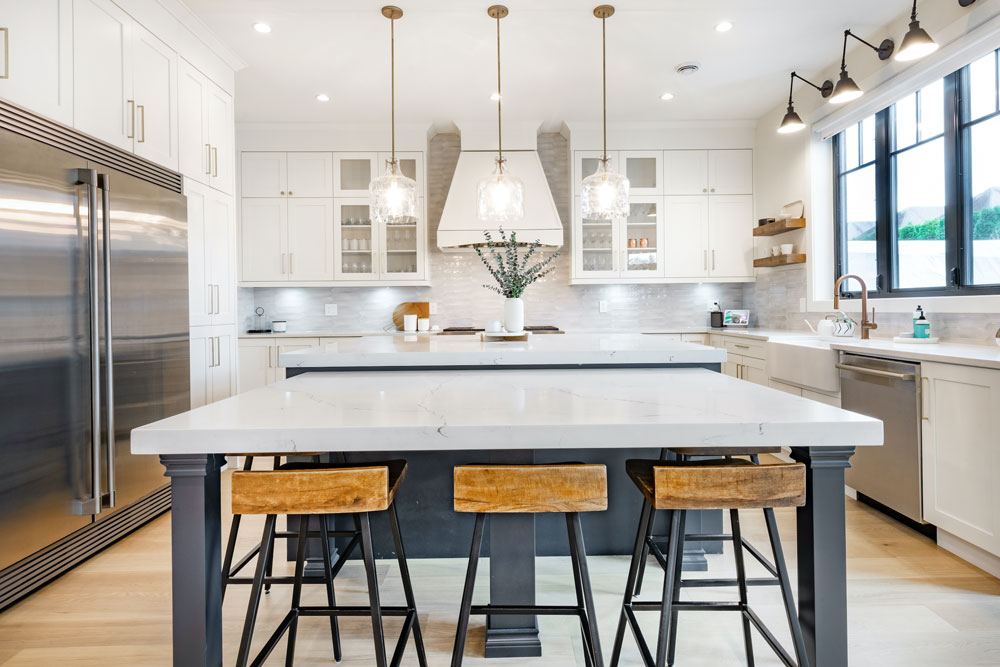 If you're planning a kitchen renovation, there are countless design ideas available online to use as inspiration. Using a pre-existing design is a great way to save money on your kitchen renovation. However, your kitchen should be an expression of your tastes and personality, so relying too much on someone else's ideas can lead to underwhelming results.
That being said, coming up with a completely original design from scratch is difficult, costly, and time-consuming, even if you hire an excellent kitchen designer to help you out. However, there's a third option. Personalizing an existing design is a great way of adding your own touch to your kitchen, not to mention a more cost-effective one. Here are six tried-and-tested ideas to explore.
1. Vary Your Styles
A good kitchen design will tend to have an overarching theme, with all the components complementing each other for a satisfying overall effect. But that doesn't mean you can't vary styles within the overall mix.
For example, you could give traditional cabinet styles a more modern feel by fitting contemporary lighting fixtures above and below to create some contrast. Alternatively, wooden flooring can sit nicely alongside stainless-steel appliances to perfectly blend natural and modern looks.
When deciding which items to mix, try to keep a common thread running through your choices, such as using matching colours, similar materials, or overall designs from a similar era. Your contrasts should always complement each other rather than clashing too stridently.
2. Mix Up Your Lines
A typical kitchen consists mostly of straight lines and sharp corners, whether that's created through long work surfaces or modern kitchen cabinets with clean outlines. Try adding a few curves into the mix to break things up, like using an ornate-shaped clock or piece of wall art to contrast with the linear feel of the main kitchen components.
3. Contrasts Between High and Low
When putting together your kitchen design ideas, it's often the default choice to match all the cabinets, whether they're wall-mounted or freestanding. However, using two different types of custom cabinets can give your kitchen an extra dimension of character. Try using lighter-coloured cabinets higher up to add brightness and make the space seem larger, with darker shades lower down to add more dimension. For an even stronger effect, use frosted glass doors for higher cabinets, contrasting with natural wood or painted doors on the lower cabinets to give your kitchen design more depth.
4. Decorative Shelving
Remember that custom cabinets aren't your only storage option. Using open shelving in some parts of your kitchen gives you the chance to show your personality through the objects you place on them. Decorative cookware or tableware can liven up the space while also reflecting your tastes. Alternatively, jars of dried ingredients from pasta to beans can highlight your love of cooking while also giving your kitchen a welcoming feel.
5. Use Different Surface Materials
Nothing in the kitchen design rule book says you need to stick to uniform work surface materials. Using a more unusual choice for your countertops, island, or dining table is a dramatic way to make a kitchen your own. Try using reclaimed wood for a warm, traditional look, or switch out laminate for stainless steel to add a sleek contemporary feel.
The good news is that these changes can actually work in favour of your budget, because you can use high-end materials on a single, prominent surface, and then more cost-effective materials on others. To stretch your budget even further, you also have the option of flexiblefinancing options, which can make your dream kitchen materials—no matter where you want to use them—much more affordable.
6. Finishing Touches
Lastly, even small touches can add up to dramatically change the look and feel of a kitchen, so don't be afraid to experiment with cabinet handles, splashback designs, light fixtures, wall art, faucets, and all the other options that can give your imagination free rein. What's more, most of these items are relatively easy to replace, so you can vary your kitchen design over time to stop it feeling stale before a more major remodel is due.
Get Expert Help with Your Kitchen Remodel
Whether you're planning a full kitchen renovation or a less extensive remodel to spruce up what you've already got, our team of expert advisors can help you at every step of the way. Start by using our convenientonline renovation calculator to find out what's possible within your budget. Then get a free renovation estimate based on quotes from our network of recommended contractors.
If your current budget can't quite cover what you've got in mind for your kitchen remodel, our friendly financing options can help bring your dream kitchen renovation within reach through affordable monthly payments. Give us a call at 1-833-527-1149—we're here to help!