What You Need to Know About Remodelling Your Pool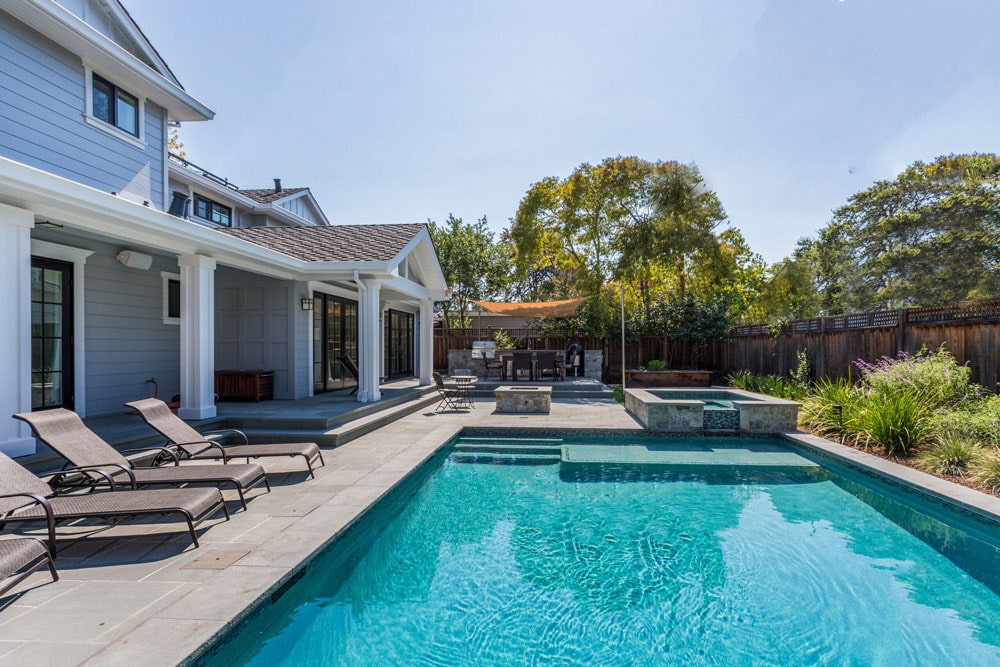 Whether it is to repair a problem or update your outdoor space, renovating or installing a pool can seem like a daunting project to undertake. However, a new pool installation can improve the functionality of your backyard space and add significant value to your home. Here are a few things to consider when thinking of remodeling your pool.
Planning a Remodel
With a new pool installation, there are many decisions to be made. Whether you have a blank canvas with a new pool installation in the GTA or you're trying to remodel an existing pool, there is a world of options to explore. We recommend that you dedicate a portion of your budget—at least $1,500—to hire a backyard planner, who can help you bring your vision to life. To start, here are a couple things to consider in the planning stages.
Determine Your Budget
The first step in any pool renovation is to determine your budget. You can do this in one of two ways. If you have a particular element in mind that you'd like to remodel, you can focus on that project and determine the cost. Alternatively, you may have a fixed amount budgeted that you are willing to dedicate to a pool renovation. In this case, if you already have a set budget, you can get a better idea of which upgrades you can afford. Don't forget about financing as an option to stretch your budget even further. With affordable monthly payments, financing can help you get exactly what you want without having to compromise on your project or your budget.
Be Aware of Timing
Most pool renovation projects are going to require the pool to be drained, putting them out of order for an extended period of time. Scheduling a pool installation in Canada in the spring may leave you feeling pressured to finish in time for summer and could be problematic if the contractor runs behind on the project timeline. Planning to install a hot tub, swim spa or pool in early fall is ideal and comes with other advantages. Typically, turnkey pool contractors are in high demand during the spring and summer months, sometimes leading to higher rates. With fewer projects on the go, contractors can provide better service and attention during the fall compared to the busier season. If your remodel gets delayed due to material availability, weather, or some other issue, you can be confident that starting in the fall will allow your renovation to be completed in time for spring, weather pending. The bottom line is that further ahead you can plan, the better off you will be.
How to Build Your Backyard Oasis
Your backyard should be the place you go to get away, where you can enjoy peace and quiet, plus a little extra fun when you need it. Chances are if you're investing in a pool for your home, you're planning to spend a lot of time outdoors, so you'll want to make sure it turns out exactly the way you want.
When it comes to designing and installing a new pool, there are plenty of things to think about, from pool safety to features that can take your outdoor space to the next level.
Pool Safety
This is critical for any pool owner, especially if there are children in the home. Any open water should be properly fenced (at least 1.2 metres in height) with no large gaps, and with a self-closing and self-latching gate. Different regions have different rules, so start by checking with municipal bylaws for pool fencing. It's also recommended that you design an area near the pool to keep floatation devices that can be thrown into the water or easily reachable if someone needs help while swimming. Other things to keep in mind when it comes to pool safety include a power safety cover, anti-entrapment safety drain covers, avoiding sharp or hard angles, and even an underwater pool alarm.
Extra Features
There are plenty of extra features you can include in your backyard oasis to take it to the next level. Here are a few things to consider when designing your pool:
Baja shelf: This is a wide top step in your pool that's usually 8-16 inches deep. Sometimes referred to as a sun shelf or tanning ledge, this pool-within-a-pool add both luxury and functionality for your new pool.
Spillover spa: This is a hot tub that seamlessly adjoins to your pool.
Deck jets: An arching stream of water from your deck into your pool.
Diving rock
Waterfall
LED lighting
Coloured liner
Fiberglass automated pool cover
Once you've got the perfect pool, it's time to think about the space around it. Here are some things you may want to consider for your backyard space:
Seating area or lounge chairs
Fire pit
Interlocking around the pool
Landscaping
An outdoor cabana
Inground speakers
Wall-mounted outdoor television
As you can see, the options are endless when it comes to pool renovations!
Minor Renovations
If you have a smaller budget or just want to make minor changes to your existing pool, there are still many upgrades possible. One common improvement is replacing a vinyl pool liner. Sometimes this is done out of repair necessity, but it can also dramatically change the aesthetic of your pool. Another less involved remodel is repairing cracks and tiling. Steps and pool edges are areas that experience wear and tear and can become eyesores. You can also add an element like a slide or diving board at a relatively low cost, depending on the complexity of the item. These are exterior to the pool and require minimal labor to install.
Final Thoughts
Installing or remodeling a pool is an exciting venture that can improve the appearance and functionality of your existing space. The secret to the smoothest process is to set your budget, timeline, and project scope in advance. MyHomeUpgrade.ca can help you plan your project and connect you with turnkey pool contractors in the GTA, surrounding areas, or anywhere else in Canada. You can also take advantage of expert advisors who are available to help you with your project every step of the way!