The Pros and Cons of Smart Home Renovations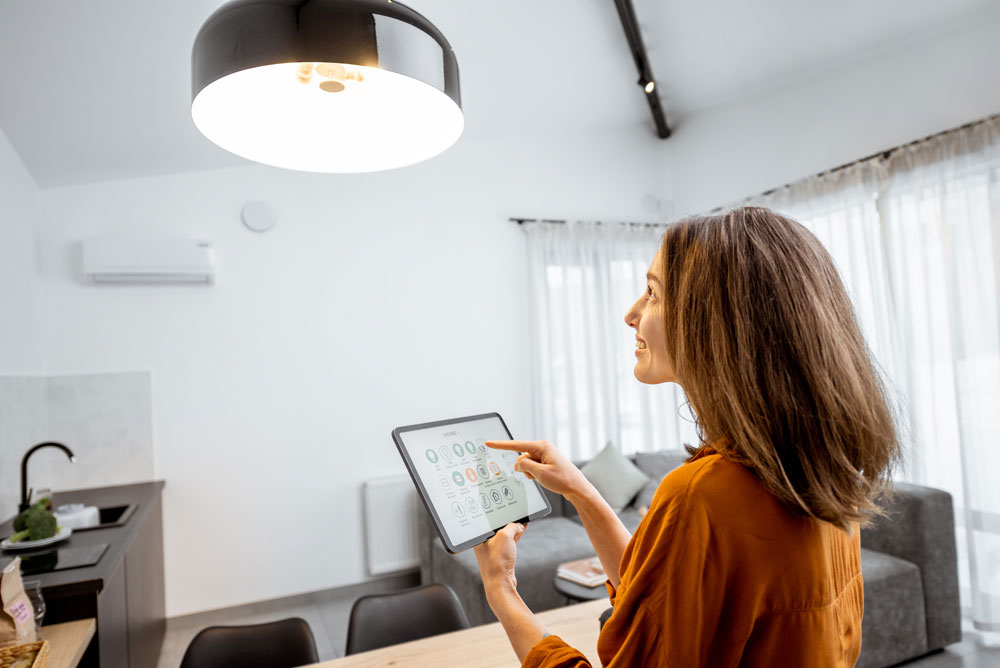 The idea of being able to control your environment with voice commands—turning lights on and off, playing music, activating security features, and more—once seemed like a glimpse of the future. However, it is now entirely possible.
Installing smart devices in your home can simplify daily tasks with automation, but they can also make life more complicated if you don't consider these important factors. Here's what you need to know about smart home renovations and whether they're the right choice for you.
What Can Smart Devices Do?
There are countless kinds of smart devices available, some more useful than others. Here are a few of the most popular types typically installed as part of a smart home renovation.
Smart Thermostats: These make your HVAC system more efficient, providing a comfortable temperature at a lower cost. They can be operated via a smartphone app to give complete control from anywhere with an internet connection and can "learn" your schedule to avoid wasting energy heating or cooling an empty home.
Smart Security Systems: These can monitor doors, windows, and any other part of your home to detect potential intruders, and then send alerts straight to your smartphone. You can also easily arm and disarm the system using voice commands, as well as monitor cameras and so on remotely for extra peace of mind.
Smart Lighting: These can be controlled by voice as you move from room to room, or by smartphone if you're out, so you can return to a fully lit home. What's more, most systems will detect when an area is empty and automatically turn off the lights to save energy. Alternatively, you can set lights to switch on and off in a natural pattern to give the impression your home is occupied while you're away.
Smart Windows: These can automatically change their tinting level to help control your home's temperature, letting more light in to warm a room or blocking more sunlight to keep it cool.
Smart Audio Systems: These can be set to send music to speakers around your home, controllable by voice, smartphone, or from a media hub. You can set the system so your music follows you from room to room, play different media in different rooms, or schedule audio playback when you're not at home as an extra level of security.
Potential Drawbacks of Smart Home Renovations
No matter how appealing the convenience of smart technology may seem, there are three potential drawbacks you should consider before deciding to go ahead.
Security: Almost any form of online technology can be hacked into by a determined attacker, and if your smart home system is compromised, it can create a major security risk. However, choosing high-quality devices and taking straightforward security precautions can greatly reduce the risk.
Budget: Adding a large amount of smart technology to a renovation can push up the cost very quickly. Only you can decide whether your budget is best spent on smart features or on other areas of your reno project. However, it's estimated that a good smart system can boost a home's resale value by up to 5%, offsetting at least some of the expense. Plus, financing your smart home upgrade with affordable monthly payments bring these handy gadgets within reach no matter what your budget.
Upgrades: Technology continues to advance at a rapid pace, and your state-of-the-art smart devices might seem outdated in only a few years. Some manufacturers even often stop supporting older devices, leaving you in the lurch if you need a repair or replacement part. Going down the smart route can mean committing to a cycle of upgrades to keep the system up to date, increasing the cost even more.
The good news is, all three of these issues can be minimized by careful planning, and for most people, the benefits of a smart home outweigh the extra complications it can bring. Moreover, one of our recommended contractors can help you choose the right smart products for your needs, while helping you to avoid all the pitfalls.
Make Your Smart Home Renovation a Success from the Start
To get your smart reno project off to a solid start, use our free renovation calculator to get an idea of what your various improvement options could cost and which kind of features you can expect from your budget. Then, get a free estimate for your project and connect with our network of recommended contractors to get the job done right.
Lastly, if you're looking to get as much as possible out of your budget, our affordable home improvement loans can help you achieve the high-end renovation results you've been looking for.